• health • hemp oil • wellness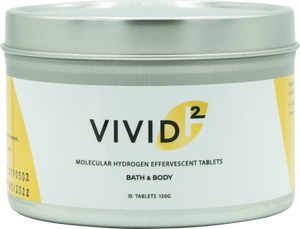 H2 + Magnesium can help relax facial muscles to reduce the appearance of age lines and reduce blemishes by helping to correct hormone imbalances in the skin. The tablets deliver free magnesium ions, which our bodies easily absorb through the skin, adding additional benefits. Vivid H2 tablets are designed to deliver the acidic pH our skin flora needs to flourish. [i] Studies about bathing in hydrogen water show remarkable abilities to reduce wrinkles [ii] , aid in those with chronic psoriasis [iii] and topical application of hydrogen mediums helping recover from soft tissue injuries [iv] . Our first test users...
---
Why do we need sleep? On average, a person will spend about one-third of their life sleeping. While many rue the need for sleep and mourn wasted potential, sleep appears to play a vital role in health and productivity. Though scientists aren't sure of the precise reason we sleep, certain observations support several theories regarding restoration and brain plasticity. A good night's sleep is thought to play several functions, including: Protecting immune function. Death is a possibility if you refuse to hit the hay. In fact, certain animal studies have shown complete sleep deprivation leads to a loss of all...
---
In 2016 alone, an estimated 16.2 million US adults age 18 or older and 2.2 million adolescents between the ages of 12 and 17 suffered from major depression. Though psychotherapy and medication are the widely-accepted forms of treatment for major depression and related disorders, research indicates cannabidiol (CBD), a cannabis-derived compound, may have potential therapeutic effects for people suffering from depression. Before we dive into the what and how of CBD, let's first explore one of the most common mental illnesses in the US. The symptoms and effects of depression. Though the medical community and society at large have come...
---
Research shows promising results for the use of cannabidiol (CBD) oil in the treatment of chronic and difficult to treat pain, especially given its low risk profile. CBD oil has little to no side effects and may provide a safer alternative to habit-forming opioids, such as fentanyl, morphine, and oxycodone. Cannabidiol is one of over 80 active compounds found in marijuana called cannabinoids. Unlike THC (tetrahydrocannabinol), the main psychoactive compound in marijuana, CBD does not create the feelings of euphoria and intoxication, or being "high". If you're interested to see whether CBD oil may help relieve your pain, keep reading...
---
Scientists don't yet know exactly why we sleep, though the effects of sleep deprivation are well known – especially to the chronically sleep-deprived struggling to get through their day-to-day responsibilities. Not getting the recommended seven to nine hours of sleep can negatively impact mood, raise blood pressure, increase risk of heart disease and diabetes, and weaken the immune system, leading to increased risk of infection. Lack of sleep can also impair memory and learning, sex drive, and balance. While the stress of our regimented modern lives certainly plays a role in rampant sleeplessness, other environmental stressors and biological conditions can...