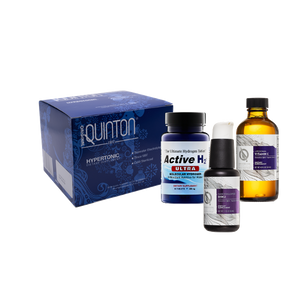 VitaExpress.com
Immune Bundle
Regular price
$179.00
Sale price
$183.95
Boost Your Immune Defense! 

We have curated a powerful and all-natural set of products that work in harmony to keep your body at peak performance and well-being. 

Quicksilver Vitamin C: Vitamin C is an essential vitamin, and among its many impressive benefits, it effectively helps boost the production of white blood cells. This makes our immune system guarded and productive. 

Quicksilver D3K2: This duo helps our bodies absorb more nutrients. For the most part, if we are unbalanced in our vitamin intake, it can even inhibit some of the benefits that we think we are receiving. D3K2 is a potent blend of vitamin D and K, that work together to enhance the absorption of vitamin K, which supports bone and immune health. 

Active H2: is a molecular hydrogen supplement in an easy and all-natural tablet that dissolves in water. Since hydrogen is the smallest element, it rapidly diffuses into cells, enhancing cellular function, and delivers anti-oxidants to where we need it the most: our cells! 

Quinton Hypertonic: Including 30 vials of harvested seawater, from plankton blooms off the coast of Spain. They contain 72 minerals and trace minerals, which support our daily mineral intake, necessary for the optimal function of our organs, and muscles! Hypertonic follows the strict protocols discovered by Rene Quinton in the 19th century, to ensure quality and purity. This formulation of Quinton is perfect for mineralization of purified water, encourages normal digestion and production of hydrochloric acid in the stomach, which helps our immune system. 
This bundle is only available for a limited time, and includes fast, free shipping! Secure your way to a better immunity today! 
Like all great things, consistency is key 🔑.
Using our products on a regular basis is how you get RESULTS.
That's why we offer a simple autoship option. You can order your favorite products, on your schedule.
The best part? Savings. Save 10% on your autoship order. Every. Single. Time.
Stay well, save better.
---
Share this Product
---